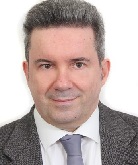 Fellow of IEEE
Prof. Gianfranco Chicco, Politecnico di Torino, Torino, Italy
Speech Title: Provision of Grid Services from Multi-energy Systems
Gianfranco Chicco holds a Ph.D. in Electrotechnics Engineering and is a Full Professor of Electrical Energy Systems at Politecnico di Torino (POLITO), Italy. He is a Fellow of the IEEE. He received the title of Doctor Honoris Causa from the Universities Politehnica of Bucharest and Technical University "Gheorghe Asachi" of Iasi (Romania) in 2017 and 2018, respectively.
He is the Scientific Responsible of the research group on Power and Energy Systems at POLITO, and the Responsible of the Torino unit of the Italian Consortium ENSIEL.
He is the Editor-in-Chief of Sustainable Energy Grids and Networks, a Subject Editor of Energy, and an Editor of IEEE Transactions on Smart Grid, IET Renewable Power Generation, and Energies (MDPI).
He was the Conference Chair of WESC 2006, IEEE ISGT Europe 2017, and UPEC 2020. Within POLITO, he participated in the European projects FP7 DIGENAS, FP7 SiNGULAR, H2020 FLEXMETER, H2020 PLANET, H2020 STORE&GO, and Erasmus+ EU-MONG. Within ENSIEL, he was the Scientific Coordinator for the European project H2020 MIGRATE, and participated in the European projects FP7 eHighway2050 and H2020 OSMOSE.